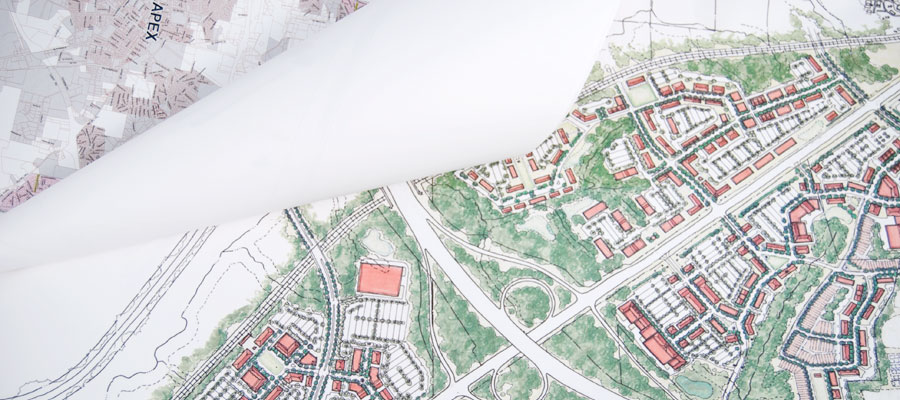 The process of defending your property rights includes five primary areas: pre-condemnation planning, negotiations, defending the lawsuit, mediation and jury trial.
Pre-condemnation planning
Highway and other public projects are often announced years in advance. There may be steps you can take to ensure that you receive just compensation when your property is taken. An experienced land condemnation attorney can help.
Negotiations
In North Carolina, if the government needs your property for a public project, you will be contacted by the government's right-of-way agent and, in most cases, by an appraiser hired or employed by the government. Through its right-of-way agent, the government will make an offer to purchase your property based on its own appraisal. You may accept the offer, or reject it and proceed with negotiations. If you are displaced by the public project, you may be entitled to receive relocation benefits, which include moving and other related expenses.
A qualified eminent domain attorney can take the lead in these negotiations, making sure your rights as a property owner are upheld and that you receive just compensation as guaranteed by the United States and North Carolina constitutions.
Defending the lawsuit
If you cannot reach an acceptable negotiated settlement, then the government can, in most cases, acquire your property by filing a lawsuit and depositing with the clerk of court the amount that the government estimates to be just compensation.
Your rights under eminent domain law allow you to withdraw the deposit without forfeiting your right to claim additional compensation, if you file the proper motion with the court. You should consult a knowledgeable eminent domain attorney about: the impact of filing a motion to withdraw the deposit, deadlines for filing an answer, preserving your property rights, hiring experts, developing strategy and other matters.
Mediation
In North Carolina, both the property owner and the governmental condemning authority will be ordered to attend a mediated settlement conference. At mediation, a neutral party, known as a mediator, tries to facilitate a reasonable settlement between the government and the property owner. The mediator cannot force either party to settle the case.
Jury trial
If the case is not settled at mediation, negotiations may continue. If the case cannot be settled, often a hearing will be held before a judge trained in property law to determine the preliminary issues and all issues other than that of just compensation. The case will then proceed to a jury trial.
At trial, a jury of twelve people will determine the amount you are entitled to recover from the government for the taking of your property. Compensation amount is generally the only issue the jury will decide. A trial typically lasts three to five days.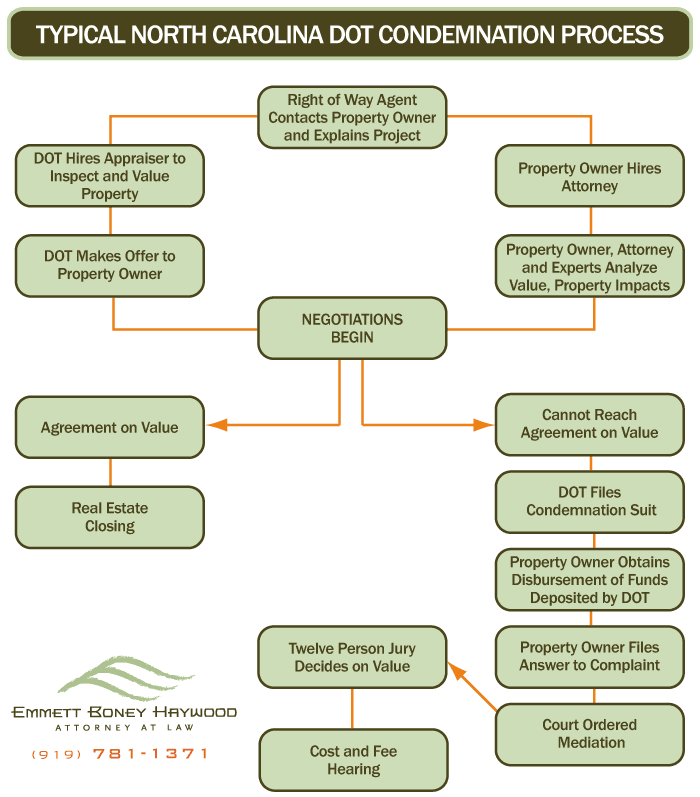 Back To Top | What We Do | Eminent Domain FAQ's | Notable Cases